"Strażnicy Galaktyki 2" - znamy utwory z albumu Awesome Mix Vol 2
Autor: Arivald
Redaktor: Edgar Allan
Dodane: 20-04-2017 09:13 ()
---
Wiemy już, jak prezentuje się soundtrack filmu Strażnicy Galaktyki Vol. 2! Czas poznać listę tytułów:
Mr. Blue Sky – Electric Light Orchestra
Fox on the Run – Sweet (trailer-only song)
Lake Shore Drive – Aliotta Haynes Jeremiah
The Chain – Fleetwood Mac
Bring it On Home to Me – Sam Cooke
Southern Nights – Glen Campbell
My Sweet Lord – George Harrison
Brandy You're a Fine Girl – Looking Glass
Come a Little Bit Closer – Jay and the Americans
Wham Bang Shang-A-Lang – Silver
Surrender – Cheap Trick
Father and Son – Yusuf / Cat Stevens
Flashlight – Parliament
Guardians Inferno – The Sneepers featuring David Hasselhoff (an original track, co-written by Gunn and score composer Tyler Bates)
Za kamerą James Gunn. Premiera w Polsce i w USA już 5 maja.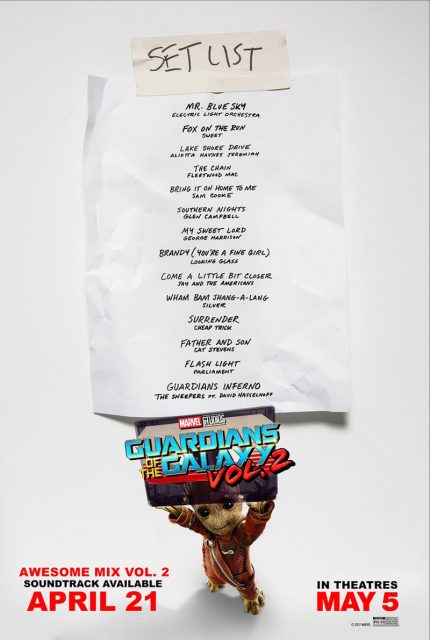 ---
comments powered by

Disqus